I had the opportunity last week to visit the EYE Film Institute of the Netherlands which is located in Amsterdam. The EYE hosts both a museum and an archive. Currently they have about 37 000 films archived, some of which go back to the very early years of film in the Netherlands.
I took the photograph below of the EYE building as I was crossing the harbour to go to the Institute. The building was designed by Vienna-based architects Delugan Meissl, who have designed a number of buildings that appear to be in motion.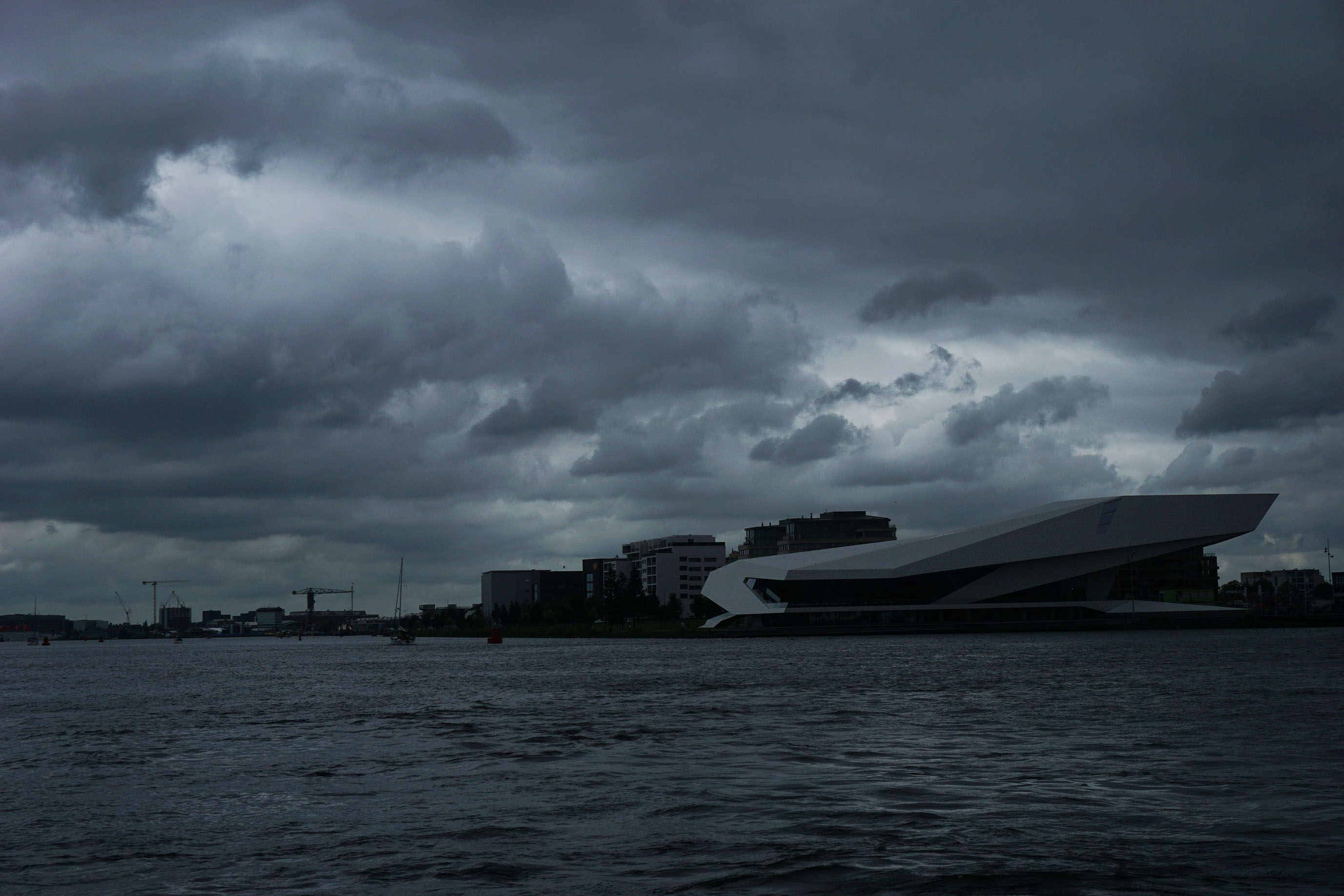 Aside from regular screenings of contemporary films, the Institute hosts exhibitions that are related to the film industry. I went to go see the exhibition called 'Master of Light – Robby Muller'.
Robby Muller is a very well-known Dutch cinematographer who has worked frequently with Wim Wenders and also Lars von Trier, Jim Jarmusch and Steve Mc Queen on films such as 'Paris Texas', 'Dancer in the Dark', 'Dead Man', 'Down by Law', 'Breaking the Waves' and 'Barfly'.
For the exhibition, Muller made available the video footage that he took over the years which documents his career, a huge number of polaroid photos he took whilst working and many of his notes to himself whilst filming.
The way the exhibition has been set up clearly tries to make maximum use of the media that Robby Muller worked in – i.e. film. When you walk into the exhibition space, you see a series of screens hanging from the ceilings and large monitors on the walls. Each of the directors that Muller had worked with extensively was asked to select clips from their films that they believed represented Muller's approach to cinematography or showed some of his finest work. These selections are loop replayed continuously in the exhibition space. Each of the directors was also interviewed about their experiences working with Muller and these interviews are played on the large screen monitors located at various points around the exhibition.
In addition, there are Muller's own videos, polaroids and notes scattered around the space. And finally, there are interviews with Muller and a very interesting interview with Hoyte van Hoytema, the Dutch-Swiss cinematographer who was DoP for films such as Spectre, Interstellar and Her. Van Hoytema had the opportunity to work with Muller when he was a young cameraman. Muller taught him much of the skill that he uses today. What I found interesting in this interview is that van Hoytema clearly saw Muller as his mentor and a significant influence on the way he lights scenes in his films and uses the camera. Muller always took advantage of the natural lighting on location and worked with it to enhance a scene. An excellent example of this was in Wim Wenders film 'Paris Texas' where the blue, red and particularly the green light comes from the motel and street neon lights on location. (see blog post on 26th May 2016 – 'Paris Texas' – Wim Wenders).
He also preferred not to use the zoom on the camera, believing that the camera contribution to the mise-en-scene could be more subtle if the zoom was avoided; he felt that zooming patronised the audience by assuming the audience to be incapable of discovering for themselves what is important.
Muller also believed that it was part of his responsibility to pass on what he had learnt to the next generation. In an interview with Muller speaking primarily about filming Jim Jarmusch's Down by Law, he speaks of his preference for filming ensemble scenes where the actors are all acting/reacting at the same time instead of cutting up the scene and getting various different reaction shots filmed separately. He spoke of the close up being like language – if you use one word too often it loses its meaning. This sounds very similar to what Alfred Hitchcock said about the use of close-up.
I managed to find on the internet, the same interview with Robby Muller that was shown at the exhibition and provide the links below (the interview has been split into three parts).
Wim Wenders worked extensively with Robby Muller and in his interview speaks of how he and Muller were filming a shot of a train and two characters at the back of the train, from a helicopter! In those days, there wasn't any rigging that had been designed to stabilise a camera in a helicopter and Muller did the entire shot hand-held. To make matters more interesting, they knew that they had on one attempt at getting the shot because the train (with the actors) could not be asked to reverse and do it again. Muller managed to get the shot and also, later, to design a rig that would be used on subsequent films where it was necessary to film from a helicopter.
Possibly the most interesting interview was with Lars von Trier who spoke of how his rules for filming that included a handheld camera that shifted from one character to another as a scene unfolded, suited Muller's style of filming very well. However, the most memorably part of this interview was when von Trier was asked what it was about Muller that made him ask Muller to return and do more films with him. Von Trier said that although he was an extremely talented cinematographer, it was his humanity that shone through and his ability to work without ego, which I believe to be a fine tribute to the man.